BLOG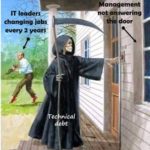 Holistic enterprise architecture
Escaping the black hole of a technological debt.
30-06-2022, Zuzana Behová
Reading time: 7 min.
Audience: enterprise architect
Unfortunately, the space between the vision and the theory of "how an organization could work" and practical reality is sometimes too big. And so, paradoxically, those organizations that would need the most fundamental change in operation are most opposed to this change. This paralysis also has a very practical basis. The change is too big. Every change, both at the individual and organizational level, must take place step by step. Otherwise it will never be realized. Sometimes it even starts but doesn't finish.